Covid-19 Pre-Arrival Checklist
Dear Guests,
Thank you for choosing The Atrium Resort in the Turks and Caicos Islands.
In response to the Covid-19 pandemic, there are updated entry requirements into the Turks and Caicos Islands. Please see below a Pre-Arrival Checklist which can be used as a planning tool for your trip:
Documents/Items to obtain
| | | | |
| --- | --- | --- | --- |
| REQUIRED DOCUMENTS | Travelers under the age of 2 | Travelers aged 2-17 | Travelers aged 18 and over |
| Negative Covid-19 test | N/A | ✔ | ✔ |
| Proof of vaccination | N/A | N/A | ✔ |
| Travel insurance which covers Covid-19 | ✔ | ✔ | ✔ |
| TCI Assured Travel Authorization | ✔ | ✔ | ✔ |
Summary: Required entry documents by age group effective February 28, 2022.
Negative Covid-19 Test
All incoming guests aged 2 and over must receive a negative Covid-19 test, within three (3) days of your scheduled arrival date. This applies to all incoming tourists, including those who have been fully vaccinated for Covid-19.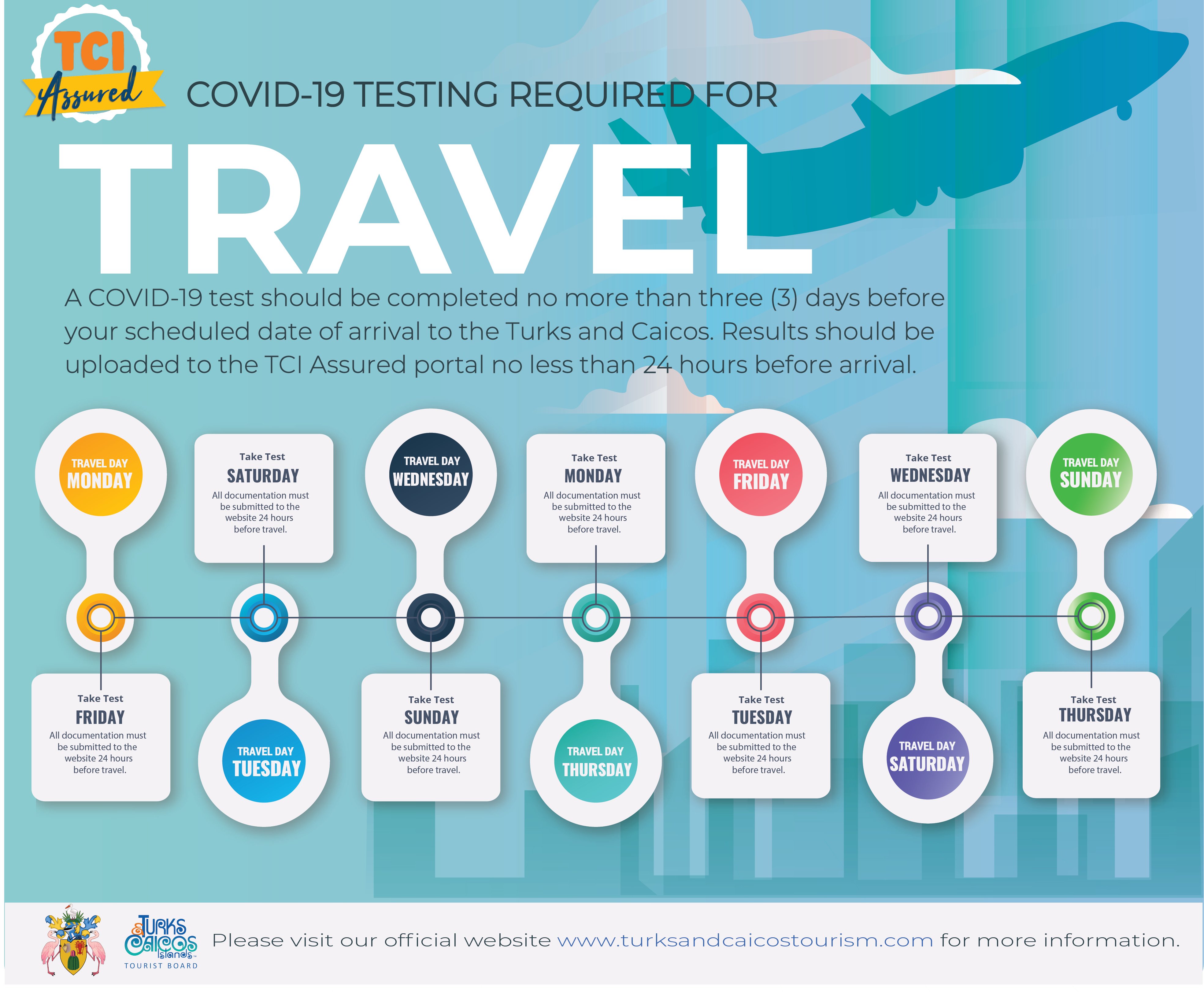 As per the Turks and Caicos Tourism website, accepted tests to enter the Turks and Caicos Islands are:
Professionally administered Reverse Transcription Polymerase Chain Reaction Tests (RT-PCR)
Nucleic Acid Amplification tests (NAA)
RNA or molecular tests
Antigen tests completed via nasopharyngeal swab
The test must be conducted by a medical laboratory with either of the following credentials: Accredited by the College of American Pathologists (CAP); registered by the Clinical Laboratory Improvement Amendments (CLIA); ISO 15189 certification.
Please note that blood draw, antibody testing, and home-based test kits are not accepted for entry into the Turks and Caicos Islands.
Information to be supplied:
Name, address, telephone number and email address of the laboratory at which the test was conducted
Indication of the laboratory's credentials (CLIA, ISO 15189)
The date and time the test was conducted
Type of test conducted (must be one of the approved tests listed above)
Type of sample (for example, via nasopharyngeal swab)
The full names, date of birth, and address of the persons tested
Negative test result
Insurance
All incoming travelers to the Turks and Caicos Islands must have valid travel insurance, which must include coverage for:
Covid-19 medical costs (including in-country medical treatment, cost of quarantine, full hospitalization, doctors' visits, and prescriptions)
Air ambulance (Medevac)/repatriation
There are several major insurance brokerage firms which offer the required travel insurance. For example, AURA offers travel insurance. For more information, please visit their website by clicking the button below:
*Disclaimer: Please note that The Atrium Resort is not affiliated with AURA or any other travel insurance brokerage, and does not make any guarantees or warranties in terms of the services they advertise, offer and provide.
Vaccination Requirement for visitors aged 16+, effective September 1, 2021
The Turks and Caicos Islands has updated its entry requirements. Effective September 1, 2021; all visitors aged 16 and over must show proof of full vaccination for Covid-19.
Full vaccination refers to a person who has received:
The full dose of their vaccine; and
The final dose of their vaccine was administered at least 14 days prior to arriving to the Turks and Caicos Islands
Accepted vaccinations include: Pfizer/Biotech, Moderna, AstraZeneca, and Johnson and Johnson. For the full list of accepted vaccines, please visit the TCI Assured portal/FAQ page.
Mixing of accepted vaccines (in a two-dose series) is accepted for entry into the Turks and Caicos Islands, as long as the 14 days have passed since receiving the second dose.
Proof of vaccination must be uploaded to the TCI Assured portal and includes the following:
Digital/e-certificates
Certification by Doctor or Government Entity
Vaccination cards/certificates accepted by national authorities (i.e. EU, US, UK, such as CDC, NHS)
A vaccination letter signed by a medical professional (physician or registered nurse) on official letterhead with contact details – doctors' registration or license number should be included with details of the first and second dose (date, country and vaccine you received)
Authorized government entity or printed record from an electronic vaccination database
Tourists may be exempt from the vaccination entry requirement, if they are able to present clear proof from a licensed physician that they are medically exempt from taking the vaccine. Please note that all other entry requirements, including a negative Covid-19 test as per above, must still be met in order to apply for the TCI Assured travel authorization.
Complete health questionnaire and upload documents to the TCI Assured online portal
Once you have received your negative test results document, proof of vaccination (for persons aged 16 and over), and the required insurance, these documents must be uploaded electronically to the TCI Assured website in order to be granted entry to the Turks and Caicos Islands. You will also be required to complete a health questionnaire. Please click on the buttons below to access the TCI Assured portal and the FAQ page.
If all documents are in order, you will receive a TCI Assured travel authorization to enter the Turks and Caicos Islands.
Please ensure you print two (2) copies of each document and bring them with you, as failure for a passenger to show the required documentation may result in the airline refusing to board them on the plane.